Tips for a holiday in Portugal
11:29
View of Porto
Portugal is a beautiful country with amazing people and wonderful food. There is something about Portugal that has always fascinated me and I think a lot of people too. This country has a very old history, from the ancient Evora, where you can still see ruins of roman temples, to the more lively Porto. When we think of Portugal we think of fado and "saudade", there is a malinconic feeling when you walk the narrow cobbled streets of Lisbon that open on the ocean; that same ocean that was considered for a long time the end of the world.
Portugal is blessed with a warm weather and the sun shines most of the year, but it is also extremely windy and perfect for surfing. And the language sounds like a cryptic poem read out loud. There are so many reasons to visit this country and I was lucky enough to make this trip, so here are my tips if you want to make this wonderful journey.
If you come from a nordic country of from a "cold place" don't come here in July and August (same tip applies to Italy and Greece) you will feel like melting on the streets. The cities were built in marble and stone so they retain all the hot from the sun and make them a living hell for those who are not used to it. September is pretty hot too. Portugal is beautiful under any season, winters are not too cold or rainy and the gloomy sky contributes to the fascination of this country. Be careful though that the wind becomes particularly strong in this season. Spring and generally more sunny months are ideal too for a holiday if you can stand the heat and you will be able to combine sightseeing to beautiful afternoons at the beach.
Ruins of a roman temple in Evora
Sunblock is a must, also remember that if you want to visit churches and religious places you shouldn't wear too short shorts or too mini miniskirst. Don't get me wrong, people are very liberal, but it is a country with a strong catholic history, so it is more out of respect than anything else to dress appropriately when visiting sacred places. It is not like in Italy where they will explicitely ask you to cover up when entering churches, but as you are going to wear a scarf when visiting a mosque in Istanbul just make sure not too be too much uncovered when entering churches.
The Barrio Alto in Lisbon is a must see, especially during the evening/night, don't go clubbing, just walk around and mingle between bars. Prices are very cheap and they will treat you more nicely if they see that you are a foreigner. Listen to some fado if you have the possibility, it's the typical traditional portuguese music and a very interesting experience, especially if you are in a bar late at night drinking some port wine or wine from Madeira.
Talking about wines if you are an estimator, then you should take one of the tours of the canteens in Porto. Port wine is quite strong so if you are particularly lightweigh make sure you snacked before the tasting session. If you want to have some with your meal remember that port wine is quite fragrant as well, so it will go better with your dessert and does not work well as a table wine.
Azulejos in Porto
The best azulejos are found in Porto, you will see a lot of tiles and mosaics walking the streets, outside churches, in the train station or just on simple private houses. There won't be that many azulejos in Lisbon, but Lisbon is much better for the apreciation of Baroque art. Baroque art was born here (hence the origin of the name) and was later adopted in Italy and France. The Jeronimos Monastry is a great example of Baroque architecture. In Lisbon you should also check out the Sao Jorge castle for a magnificent view on the city and the ocean, really magical, but you have to climb a very steep hill to get to the entrance so if it is very hot or you have just had lunch take a taxi, they are also very cheap in general in the whole country.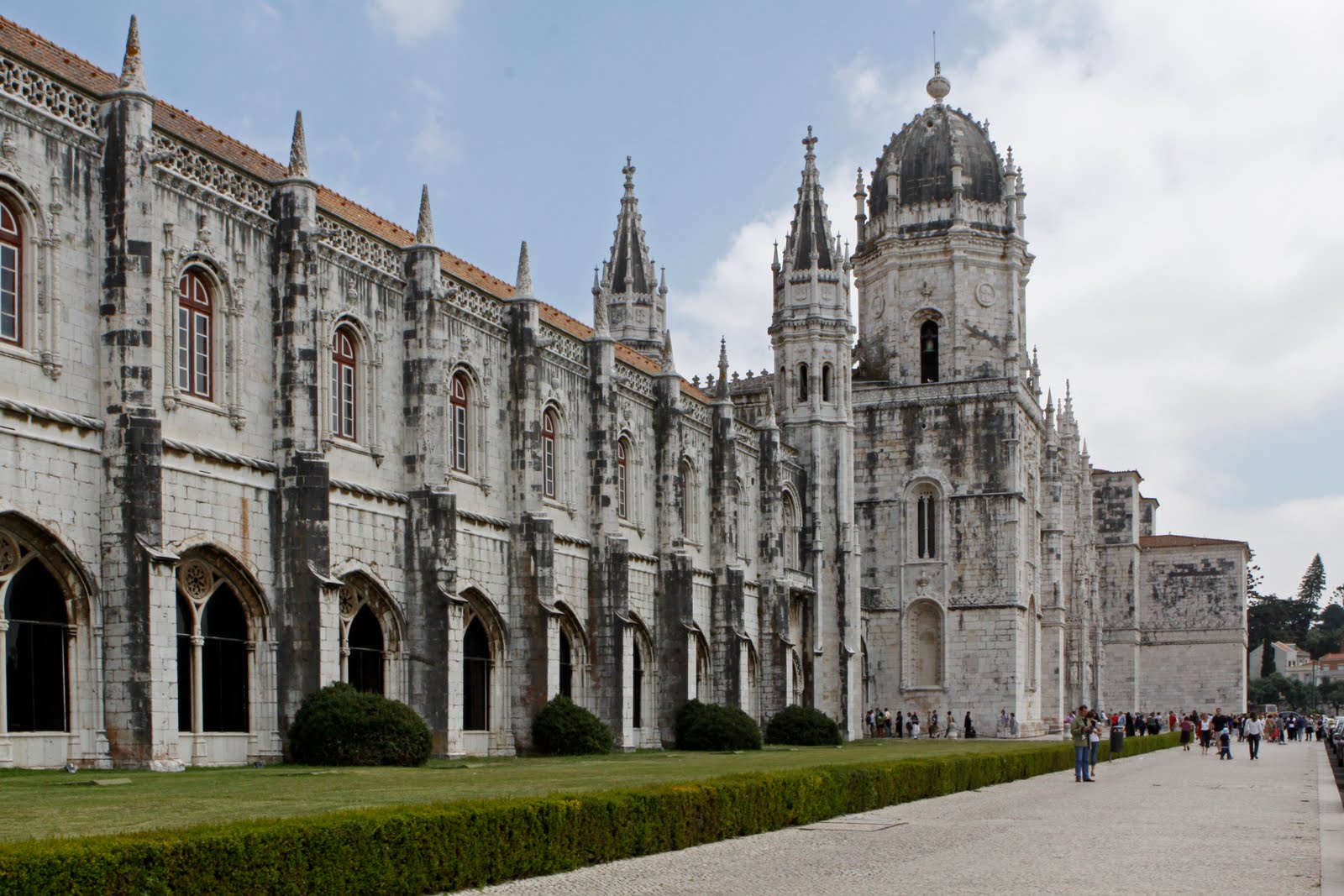 Monasteiro dos Gernimos in Lisbon
You should also visit the University of Coimbra, whose library is among the most famous and beautiful in the world.
University of Coimbra library
When in Porto visit Rua Bombarda, is the hip road of art galleries and hipster and indie shops and restaurants. It is surely a must to check out if you are staying in the city for a longer time. There is a very nice tea room that has an internal garden, it's called Rota do Chà and if you are a tea apreciator you should check it out, the choice of teas is outstanding and the atmosphere so calm and relaxing, perfect for a post shopping afternoon. From there you could walk to the Jardins do Palacio de Cristal for a very beautiful view on the river and the city, they also have peacocks roaming around freely in the gardens.
Rota do Chà in Rua Bombarda
There is a long stading rivalry between the two major cities, Porto and Lisbon, where football is just one of the many ways this rivalry is shown. If you visit both cities remember that you will be asked which one you think is the best a lot,
a lot.
Just try not to offend anyone, but you will see that they are quite different cities and you will be able to find your way out of this tricky question.
This are the main tips I could think of, but if you have any questions don't esitate to write a comment about it and I will gladly answer all of them.